Space scientist Patricia Reiff available to discuss Aug. 21 eclipse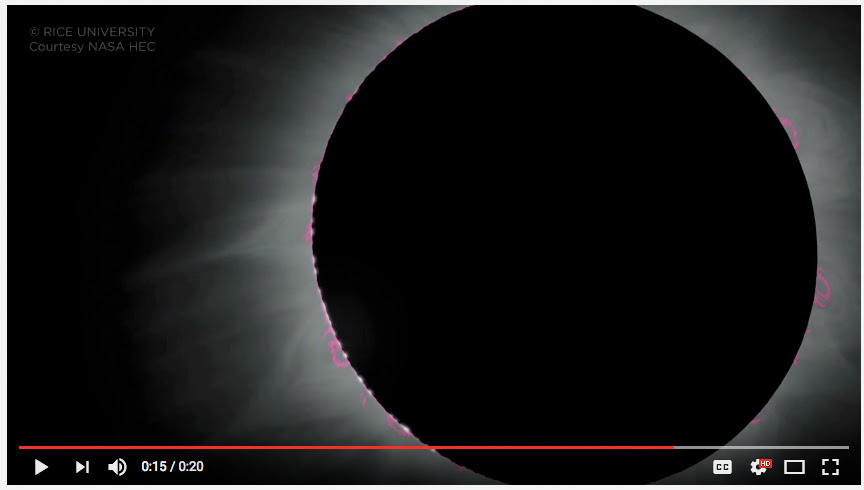 HOUSTON — Leading up to the Aug. 21 full lunar eclipse, which will be viewable in a vast swath of the United States, Rice Space Institute at Rice University is making available more than a dozen animations to the news media for free. The animations are funded by NASA's Heliophysics Education Consortium and copyrighted by Rice University.
Media using the animations online and in broadcasts should attribute them to Rice University/NASA HEC. News media should use the flat-screen versions; the fish-eye and wrap versions are for use by planetariums. Media are also encouraged to use the high-resolution versions and provide a courtesy notification of use to David Ruth in Rice's Office of News and Media Relations at david@rice.edu.
Rice University space scientist Patricia Reiff, who has traveled tens of thousands of miles to witness over a dozen total eclipses, is available to discuss the historic Aug. 21solar eclipse, the first total solar eclipse to cross the United States from coast to coast in nearly a century.
Reiff, professor of physics and astronomy and associate director for public outreach of the Rice Space Institute, is a self-professed umbraphile (literally "shadow lover") who has witnessed solar eclipses on nearly every continent and even from several ships at sea. When the moon passes between the sun and Earth later this month, Reiff plans to be in Wyoming, where she booked her accommodations more than two years in advance. She said she has traveled to see solar eclipses for more than 38 years because each is unique.
"No two are alike," Reiff said. "The sun's corona appears different, depending upon the time of year and the phase of the solar cycle. Eclipses that occur near sunrise or sunset can have lovely reflections along the water or placement near interesting objects. Eclipses that occur near noon are best to see the moon's shadow racing toward you at 1,000 miles per hour, like a black tornado."
She said the effects can be seen and felt, even in rainy or cloudy conditions. "You can experience the change in the wind, the darkness of the sky, the change in temperature and the creatures heading for bed."
Reiff, a space plasma physics researcher, began her career as a Rice Ph.D. student analyzing data from instruments left on the moon by Apollo astronauts. She also is an award-winning science educator who has contributed to museum exhibits and planetarium shows seen by millions of children and adults.
The Aug. 21 eclipse will only cover 66 percent of the sun in Houston and will peak at around 1:17 p.m. CDT. Reiff said Houstonians will have to wait until 2023 and 2024 for near-total eclipses that will cover 90 percent and 94 percent of the sun, respectively. For those who don't want to wait, she said a trip to see a total eclipse is unforgettable.
"Totality (when the sun is completely obscured) is a full-body experience," Reiff wrote in a 2016 commentary in Rice News. "Although there are many excellent photos of totality, seeing it for yourself is much more dramatic. As totality approaches, the sky gets darker. It's really hard to notice the difference until the sun is 90 percent covered. Then you notice the sky seems gray, not blue, and the shadows all seem very sharp. Birds may start to roost. The temperature may fall by several degrees, and the wind may pick up. Street lights come on. It's an eerie feeling, and for many, a spiritual experience. The eclipse looks huge in the sky, because the corona adds up to several times the sun's diameter."
Reiff reminded observers to never look at the sun, even during an eclipse, without appropriate protection for the eyes. Only during the brief time of totality (and only for folks who have traveled to the path of totality) is it safe to use naked eyes or unfiltered binoculars and telescopes to view the awesome sight.
Related Posts