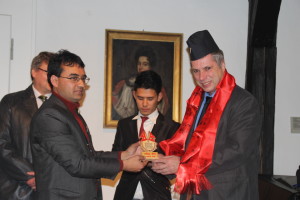 Kathmandu– The students of Southwestern State College (SWSC) has completed their 15 days educational tour in Germany, organized by City Council of Herzberg, Germany, Intercultural Center of Herzberg and German Esperanto Group. The collage was formally invited by the respective organizing team of Germany in a motive to explore and exchange the art and cultural experience of both countries.
The norms and values of culture that any individual follow represents the identity of that particular  nation and Germany is one of the sea source of culture with diversity in it so as our country Nepal is. This educational excursion was held in Germany where the students of Southwestern State College actively participated representing Nepal. This programme was organized in order to exchange the arts and cultural values among the students of both countries. The students of both belonging countries were seen participating in the programme with excitement at the top and the eagerness to learn about the new culture that the participated country's people follow. Exploring Nepalese culture students of Southwestern State College performed infront of the Mayor Lutz Peters, Ex- Mayor Gerhard Walter, Vice Mayor Ulrich Schramke, Political Leaders and the mass of University students in various songs like newari songs representing newari culture, also they showed their respect and devotion toward the motherland Nepal through their National Anthem.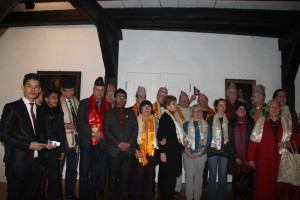 This educational tour to Germany was carried out under the leadership of the Vice-Principal of the College (Southwestern State College) Mr. Hari Singh KC along with the students of  Bachelor and +2 level. Altogether there were thirty seven students. During their tour the students visited the historical city Frankfort, Berlin, Herzberg, Hydrillberg and Collin. As well as they also visited many Universities like Berlin University, EMA Gymnasia's School ,and historical wall of Berlin, parliament of German respectively. 
In the welcome program of the students from German, the mayor of Herzberg city says "We get many more practices in art and culture so we feel very proud and in the coming days also that type of program will be continued". In the special tour the General Secretary Mr. Kumar Panta of NRN (Non residence of Nepalese) has welcomed the Nepalese students. By that programme:Mr. Lutz Peters further adds that it's very easy to exchange the cultural as well as social with mutual relationship in-between Nepal and Germany. The students had been every excited by that programme.
Finally Mr. Hari Singh KC who is the Vice Principal as well as the coordinator of that progrmme said "This educational tour gives a new light in different practices to our students and also the Germany has been seen very eager to do that type of programme in the future too".