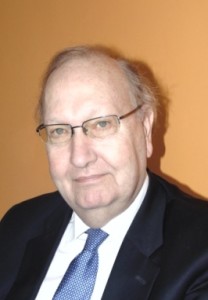 Professor Dr. Fil Jan-Urban Sandal, is an Executive Director, the founder and the owner of a private scientific institute named Fil. Dr. Jan-U. Sandal Institute, Norway. His institute comprise of three departments, one department for social science, one for education and another for culture. He has come to Nepal as his institute has Memorandum of understanding (MOU) with South Western State College on scientific collaboration on all kind of levels. This is the first exchange visits of Professor Dr. Fil. Jan-Urban Sandal in Nepal. He has been attending a complete Social Entrepreneur School IBS which is 20 weeks program and also he is running internship program of 10 days with 20 lessons. During his this session in South Western State College, Mr. Laxman Dangol, The Editor of RevoScience Monthly, sat together for Interview upon him, Professor Dr. Fil Jan-Urban Sandal and his institute.
What is the main propose of visiting Nepal?
The main purpose of visiting Nepal is that I have been invited by South Western State College and to give the whole Social Entrepreneur School IBS for their students, so that they can undergo their education, passed their examinations and graduates.
What kind of speech or presentation, you delivered to the SWSC students?
The school comprises three different courses, international study course in Social entrepreneurship, international study course in innovation management, and international course in service vision management. All together they sums up in 20 lessons, each lesson are lecture, and they use different learning method like individual study, and group work. They do individual written thesis and they also do group thesis. They present individually in group in front of the class and they need to pass their examinations.
What was the reflection of students and teachers after your presentation?
They were very interested, they were very active and they have been working day and night with all topics because it's a very big curriculum to go through. If they read all the literature there will be about three thousand academic pages. They have been very enthusiastic. And also I find their academic level being very high.
How does your institute, Fil. Dr Jan-U. Sandal work globally?
The institute is situated at outside Oslo, the capital of Norway. In recent years, I have engaged in the building of an international University network. At the time, there are 8 universities and colleges, including human network with approximately 85 thousand students and 20 thousand faculty members in the network. All universities have the same possibility to cooperate on research, education, culture, exchange and so on.
'Excellence in science and education' is the slogan of your organization, how does it work in the field of science and education?
Social science, the way we work, is international and independent. So, there is no dependency in scientific approach. It means that, we do not take money from any government or from the market, because we do not want to mix the capital, money with science. When it comes to education, I have developed a system for teaching method which is called innovative learning method. We offer writing, individual and group work and different learning methods to the students. Our students come from all occupations, they might be young in between 16 to 24 years old and they might be of middle age from 25 to 50 and elderly people taking courses. They have different experiences, they have different academic background that is why it is very necessary to have a wide range of different learning method because people learn in different ways, and our approach is that, 'everyone should have the same possibility to improve their skills and scientific understanding.'
What is the main aim to establish this institute?
Well! that is of course a relevant question. An Institute means the response to the fact that science needs independent frame works to function and in the area I come from, we don't usually have that frame work to work from because most of the professors, scholars and teachers are employed by the governmental universities and institutes and they do not have the possibilities to work independently on the scientific questions.
Basically you focus on the social entrepreneur school IBS, why you choose the social entrepreneur as the most priority in your institute?
When I studied my own learning process, business entrepreneurs were in focus globally except Social entrepreneurs. So after my dissertation, I decided to head on with social entrepreneurship because at that point of time social entrepreneurship had not developed in the western countries. In the late 1990s, especially in America the topic was developing. So I picked it up from my reading and my research and I decided to be deepen in to this and the more I haven digging in to it, the more promising this topic seems to be. I wrote a first scientific article, in my own mother tongue and academically published it to educate the scholars, professors, universities, practitioner students, politics, governments and so on and it seems to be a great success and from that steps I have been working continuously to widen and deepen the topic. 
What is the main role of social entrepreneur school for the developing countries like Nepal? 
I think, theoretically speaking, there is no differences in between developing and the well developed countries because all countries need to treat well themselves from the level they are today, because all countries are facing problems, may be not exactly the same but when it soon comes to democratic question which means that every citizen should have the same right to express themselves in the social system and contribute to develop the country.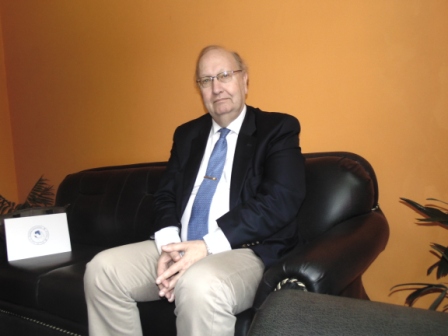 People from which level need this social entrepreneurship?
Actually, I think every citizen need education, in social entrepreneurship. Now we started with four front runners who are very innovative entrepreneurs and they have started their education social entrepreneurship and function like very good ambassadors for this topic. Also they disseminate the information through the private networks to the families over social networks and that will open up for more people to apply for same education. Therefore, this is the starting of pyramid that will spread throughout the whole society and it necessary for everyone because it is the new way of thinking. It's the basic norm for democracy. It means don't be passive, don't sit waiting for other one to solve your problem. You can do a lot by yourself. Nevertheless, we have to start means something, you also need the knowledge, skills then motivation and of course, you must understand that democracy is not something that leads only theoretically, it leads in each and every person.
Till now how many portion of a complete course has been completed about social entrepreneurship and are they, the participants happy with this courses?
[pullquote]Theoretically speaking, there is no differences between developing and the well developed
countries because all countries need to treat well themselves from the level they are today.[/pullquote]
From the international students, my experience is that they all have very good feelings, they wanted to learn more, they wanted to go earn, and they wanted to study even more. Some of them realize that one's born to become an entrepreneur; so maybe they would like to postpone that step for the future life but others, they are enjoying civil organizations, some of them start businesses, organizations, some want to study even more. We have programs at Fil. Dr. Jan-U. Sandal Institute to support our candidates and actually everyone else who wants to take part in this learning process and one of the activities is called Summit conversation in emerging issues in social entrepreneurship, which is a scientific based summit series started on 28 October 2008. It is now in its 8th year and last summit was hold in Minsk in Belarus at National library. We have participants from many countries; quite a few take the role as keynote speakers, they leave their articles, and now developing their ideas, both academically and practically. We will also try to bring this summit series to Kathmandu this year.
In this summit, what kinds of participants are involved?
It is open, actually for everyone, who is interested in our work or engage in somewhat or another topic relevant to social entrepreneurship. They might be professors, doctors, research persons, PhD candidates, all level of students, practitioners, politicians, bureaucrats, business owners and start up people and so on, there is no limitation. At the same time, six years ago, I opened up the Summit Fund, which provide grants for students, and the practitioners who want to develop their science or projects, and they can apply for the grants. When grants are approved, they use to travel abroad for scientific purposes and when they come home, they leave their research report at one of the summit to share all their new achievements with everyone who are interested.
What kind of expectations do you have from Nepalese students, participants of this entrepreneurship?
I expect lots of different activities. I expect that the first groups, who now have graduated from the Social Entrepreneur School IBS, are able to take active part in next step, which means that they will be involve in future projects starting over all this year, research programs, and educational programs at various universities, colleges and new organizations. We want them to come for exchange visit in my institute in Norway to learn more. We want as many as possible to apply for the four-year scientific program, which is developed at Fil. Dr. Jan-U. Sandal Institute. The program is called Affiliated Honorary Research Fellow. To apply they have to be a Keynote speaker at least once. They have to publish one academic article internationally. They need to have involvement in independent research and they have to take the admission interview. If they meet their requirements they can start their four year scientific full time activity. And the program constitutes of writing four full text academics articles and have them published internationally and we send the candidates for research exchange at one or two universities in the network. They will take ten weeks courses in three different topics. One of them will be reading course of about 3000 or 5000 pages in literature which will be relevant for their research and finally they will go out and practice teaching assistance for two weeks and then, at last they will write their thesis, a monograph of about 150 pages. We will put up an examination committee containing three professors and one opponent and we will invite to public defense of thesis.
How important is it for pure science students to take these courses?
Of course, it is necessary for everyone. Even though social entrepreneurship is not a main topic for science students, they will get deep understanding of the process of innovation, economic and social development of the country, so it is very important for everyone. We have many different people from the different backgrounds like medical doctors, lawyers, tourist guide, teaching professionals, pure businessmen and so on in a wide range. 
What will be the outcomes for the participants after taking Social entrepreneurship course? 
The formal outcome is they will receive three different certificates, one for each exam passed and they will also graduate and be awarded diploma from the whole school. They will also receive the glass statuette, the insignia of graduate achievement. They will be awarded a title, 'Social Entrepreneur IBS'. Finally, their names will be listed under graduation of our website of Fil. Dr. Jan-U. Sandal Institute.
What is the reason behind establishing your institute in your own name but not any other?
It's the obvious consequence, the fact that independent science is managed and developed by individuals not by organizations or formal bodies. So my science is raised from my own thinking and my work also comes from my own academic approach. So this is the direct reason for using my own name for my institute.
Last but not least, would you like to add something to our readers?
Social science as scientific topic is quite young. Only maybe 15-20 years old, and for those who want research career in a new and expanding field have now chance to enter in this very exciting and very important and expanding area of research.