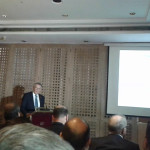 Kathmandu— Today, Nobel Laureate Dan Shechtman talked about the technological entrepreneurship: A key to the world peace and prosperity in Kathmandu as the participant of the 13th International Conference on Quasicrystals(ICQ-13) along with other participant scientists.
Starting with the basic level of people of all over the world as a whole with their prime problem and solution at a target, he shed light over the key steps for the development in the field of science and technology, encouraging the participants in the hall.
Technological Entrepreneurship-Key to world peace and prosperity as the title of the talk program, the Nobel Laureate spoke over the initiation of technological entrepreneurship among the fresher along with the establishment of the new technological venture and the sustainable economy. Supporting the initiative steps of the freshers, Nobel Laureate said there should be supportive hand of government as well.