Learning through French education system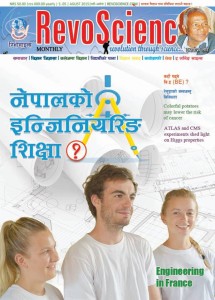 We have always been concerned about the activities happening within this whole world. Our mind is habitually in quest for learning and gaining more and more in adventurous way. Three under graduate students, Antonin Migaud, Laura Chapus and Nelly Boyer Russier from France arrived Nepal for the same mean reason, to know about the people, environment and many more aspects, gaining new experience and doing volunteering as well.
These three students are studying in Polytech Montpellier University of Engineering and Biology where two girls Laura Chapus and Nelly Boyer Russier are doing bioengineering and Antonin Migaud is from hydraulic engineering field. During conversation with these French students at revoscience office, every each of them shared their feelings and experience during their visit to Nepal also they let us know many more things about their home country as well, specially about the education system in France.
During conversation about education system in France Laura highlighted about the choices of subjects. Most of the students among female doesn't seem to be keen about subjects relating engineering in Nepal but as Laura and Nelly both are doing bioengineering they said that even in France girls prefer other subjects than engineering. We choose this subject because we find this subject very interesting and we believe where we find subjects to be interesting the mind perform best, said the girls.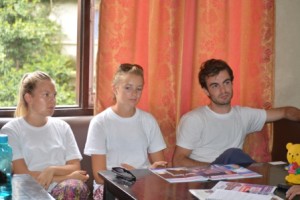 Also it is practical based subject where students have to perform various activities related to different terms and subject, it's like responsibilities where students can work in different subjects, they have to prepare the project over their practical research and at the end of their project they have to observe the result which they can take for further research purpose, said Laura.
On asking Antonin, "why you come to choose hydraulic engineering?" he replied, "This is the field of my interest as it is related to water where I can give figure to my imagination and also water is vital for every each individual. No water means no life so I come up with sort of thought that if I could do anything to discipline the control and management of water resources it will be my contribution for the earth as a whole."
[pullquote]Volunteering itself has never been a part of school curriculum but because of own choice to support people regarding different countries,students from France arrived to Nepal. [/pullquote]
During their stay in Kathmandu they went to different universities and orphanages. Among all they talked about The Tribhuwan University (TU). When they were asked how was their visit to the particular university- TU, Lura replied that it was quite good experience knowing the people who are completely different from their home country along with their learning system. The course content might be similar more or less in both countries but there is some space in between, Nelly added.
Antonin said "Apart from the number of the students or the area that the university covers as it is obvious that it won't be same — students in France have the opportunities of internship in every year, they can go to any other countries in Europe during their study session. These kinds of facility is provided to the every student in France by their university as internship is very important, but the engineering students of here said they don't have internship opportunities, Antonin added.
Volunteering in Nepal
Volunteering has always been an activity of promoting the humanity in self, loosing nothing but gaining the blessings and self satisfaction encountering skill development and socialization. It itself has never been a part of school curriculum but because of own choice to support people regarding different countries, these three students arrived to Nepal. During the conversation they said," It's completely different than our curriculum. There is nothing like volunteering in our curriculum. We had two months summer vacation and we had nothing to do as internship during this summer so we decided to volunteer in Nepal for one month."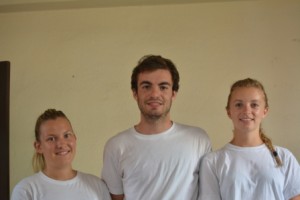 The chief motive of these students for visiting Nepal that too in this crucial condition of earthquake is one of their field of interest where they wanted to go far away from France to discover something new and also to make a worthy trip by helping people. For this they discovered an organization named BABU NEPAL ARLES in France which helps children in Nepal but at the mean time the devastating earthquake occurred in Nepal which was a barrier to them.
Although they still had a desire to visit Nepal to help children and to learn something new from Nepal so they rush to Nepal as soon as this threatening earthquake somewhat seen under control. They have visited the Helping Hand orphanage where they meet the children. As they said, they as well as the children were very excited when they were among those children sharing their talks, watching their activities.
We learn the same thing but the learning technique may vary. Children that we got to meet in Helping Hands are very good with their vocabulary, they know the words and subject matter related to that particular word which is very good for the children, this can add the practical knowledge to the children, Nelly said.
Finally, it was like a conversation with the people of the own home country as the way they shared their experience. They talked over different subject matter among which all of three highlighted about the internship system in Nepal.
To go along with the fact internship is very important for all most every student —who is surely a part of the organization in coming future —as it will provide an experience to every individual related to their field of education or knowledge. Internship— let the students to get involved in their field of education practically garnishing their acknowledgement, organizational, leadership skill and theoretical knowledge. Being assisted, before starting a career in any organization — add an extra confidence in any individual who have completed their academic qualification and this can increase the qualified manpower within the country.
Hoping this "internship" no more will be just the matter of an issue but the compulsion with the facility for every student according to the field of their education in Nepal too.