RevoScience Media
Kathmandu— Biotechnology Society of Nepal (BSN), organizing an 'International Conference ICBSN-2021' during February 12-14, 2021 through virtual platform.
Due to COVID-19 education, research, industrial and social life has been impacted dramatically and to overcome this pandemic situation, states in Press release—BSN is organizing an "International Conference by Biotechnology Society of Nepal" (ICBSN-2021) under the theme of "Biotechnological Revolution in Environmental, Agricultural Technologies & Healthcare (BREATH).
This conference covers the basic and applied aspects of Biotechnology, Environment, Agriculture, Healthcare and Forensics. It helps to provide a good platform to the researcher worldwide to share and spread their knowledge, and innovative ideas.
NabinNarayan Munankarmi, president of BSN has said, "The international speakers from research organization of USA, Australia, UK, Switzerland, Spain, Germany, Korea, Malaysia, Dubai, India and Nepal would glorify the event with their expertise talk."
Along with president Munankarmi, the conveners Prof. Dr. Vasudeo Zambare, Director of Om Biotechnologies, India; and Prof. Dr. Janardan Lamichhane, Kathmandu University, Nepal will play the vital role in ICBSN-2021 conference. Meanwhile, ICBSN-2021 conference is foster by keynote Speaker Prof. Dr. Nikolai Pretrosky, who is the world's renowned vaccine scientist and professor at Flinders University, Australia and is a Chairman of Vaxine Pty. Ltd, Australia.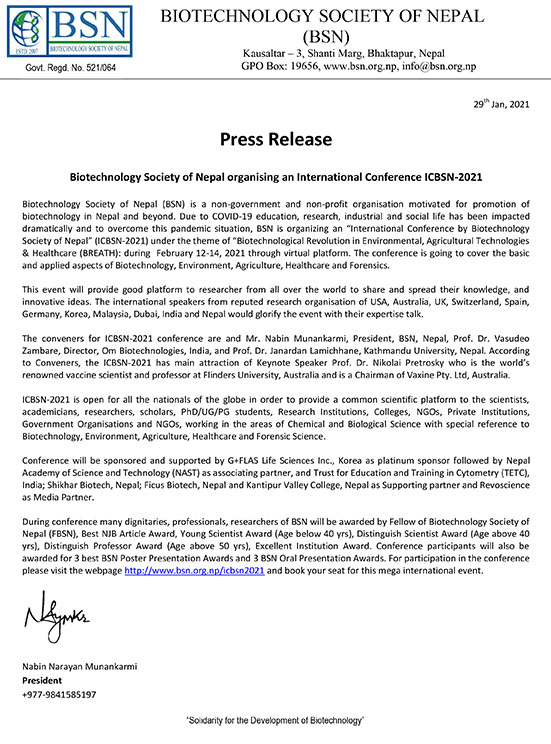 According to press release the conference 'ICBSN-2021' is open for all the nationals of the globe in order to provide a common scientific platform to the scientists, academicians, researchers, scholars, PhD/UG/PG students, Research Institutions, Colleges, NGOs, Private Institutions, Government Organisations and NGOs, working in the areas of Chemical and Biological Science with special reference to Biotechnology, Environment, Agriculture, Healthcare and Forensic Science.
Conference will be sponsored and supported by G+FLAS Life Sciences Inc., Korea as platinum sponsor followed by Nepal Academy of Science and Technology (NAST) as associating partner,and Trust for Education and Training in Cytometry (TETC), India; Shikhar Biotech, Nepal; Ficus Biotech, Nepal and Kantipur Valley College, Nepal as Supporting partner and RevoScience News as Media Partner.
In addition, during conference many dignitaries, professionals, researchers of BSN will be awarded by Fellow of Biotechnology Society of Nepal (FBSN), Best NJB Article Award, Young Scientist Award (Age below 40 yrs), Distinguish Scientist Award (Age above 40 yrs), Distinguish Professor Award (Age above 50 yrs), Excellent Institution Award. Conference participants will also be awarded for 3 best BSN Poster Presentation Awards and 3 BSN Oral Presentation Awards.
BSN is a non-government and non-profit organization motivated for promotion of biotechnology in Nepal and beyond.