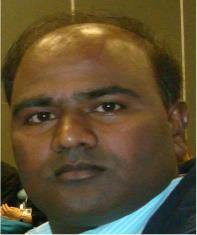 Malaysia– Dr. Ranga Rao Ambati is a Senior Research Fellow in the Institute of Ocean and Earth Sciences at the University of Malaya, Malaysia. He has been working in the interdisciplinary fields of micro algal biotechnology, food biotechnology, food science and technology, chemistry and biochemistry.
Dr. Ambati is involved in various microalgae research projects that produce high value compounds for food, feed and nutraceutical applications. He is also involved in the cultivation of microalgae species using photobioreactors and raceway ponds for bio-fuel applications.
Dr. Ambati completed his PhD in biotechnology under the supervision of Professor Dr. G. A. Ravishankar, Professor & Vice-President of the Dr. C. D. Sagar Center for Life Sciences and the former Chief Scientist and Head, Plant Cell Biotechnology Department at an internationally recognized laboratory – the Central Food Technological Research Institute, which is part of the Indian government's Laboratory of the Council of Scientific and Industrial Research (CSIR).
He says that in recent years there has been an increasing demand for microalgae, which produce carotenoids, proteins, lipids, essential fatty acids, hydrocarbons, vitamins and micro-nutrients, etc. — for use in food, feed, nutraceutical, pharmaceutical, and cosmeceutical applications.
Carotenoids are often used for treating nutritional deficiencies and life-style related disorders. In addition, they are used in animal feed and as a pigment source in aquaculture to improve consumer perception's of quality. Dr. Ambati's current research is related to finding new and safe carotenoids from natural resources for various health benefits. According to business reports, the global market for natural carotenoids alone will increase to US$919 million by 2015.
So far, Dr. Ambati has successfully optimised and enhanced biomass and carotenoid production in microalgae cultures and then mass cultured them in photobioreactors and raceway ponds. He has also developed extraction methods, isolated and characterised bioactive compounds by various analytical approaches, and evaluated their possible nutraceutical applications.
He obtained the maximum carotenoid content from the microalgal species Haematococcus. This was evaluated for its potential biological activities using in vitro and in vivo models. This research can be used for treating vitamin A deficiency, which is a major global public health issue particularly in developing countries.
Dr. Ambati's work has been cited and reported in various publications, including: Clinical Oncology Week, NewsRx (USA), AstaREAL newsletter (Sweden) and Natural Products Insider, among others. He has published research papers, book chapters and also delivered presentations as a speaker at various international/national conferences/symposia.
Dr. Ambati would like to dedicate his award to his parents, family members and teachers who advised him to choose the right path. He would like to thank his PhD research supervisor, Professor Dr. G.A. Ravishankar, as well as research collaborators who helped, supported and also recommended his candidature directly and indirectly.