The European Robotic Arm (ERA) is on its way to the International Space Station after being launched on a Proton rocket from the Baikonur Cosmodrome, in Kazakhstan, on 21 July, 2021. 
The 11-m-long robot is travelling folded and attached to what will be its home base – the Multipurpose Laboratory Module, also called 'Nauka'. The Proton-M booster placed Nauka and ERA into orbit around 10 minutes after liftoff, nearly 200 km above Earth.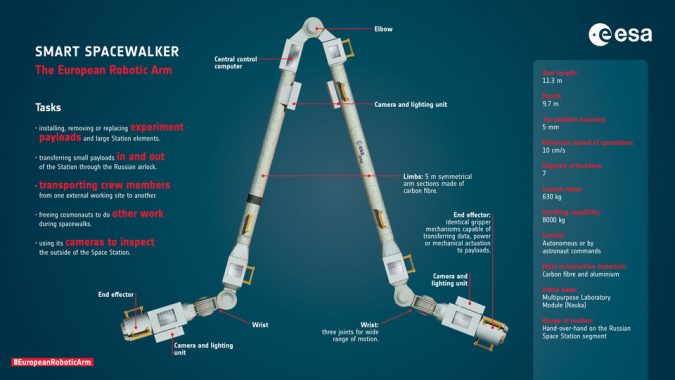 The Space Station already has two robotic arms; Canadian and Japanese robots play a crucial role in berthing spacecraft and transferring payloads and astronauts. However, neither arm can reach the Russian segment, according to European Space Agency(ESA).
ERA is the first robot capable of 'walking' around the Russian parts of the orbital complex. It can handle components up to 8000 kg with 5 mm precision, and it will transport astronauts from one working site to another.
"Moving hand-over-hand around the Russian parts of the Station, the European Robotic Arm will bring more freedom, more flexibility and more skills to space operations," says ESA Director of Human and Robotic Exploration David Parker.
"We are giving the Space Station a mid-life upgrade after 20 years in orbit through our Columbus 2030 programme – an opportunity to modernise space with a commercial approach," he adds.
The launch and installation of the European Robotic Arm is a first for Europe and Russia in space. A consortium of 22 European companies from seven countries built the robot for ESA. The long-awaited premiere of this European-made robot follows 14 years of perseverance.
What is Robotic Arm ?
It is much like a human arm. It has an elbow, shoulders and even wrists. The European Robotic Arm (ERA) is the first robot able to 'walk' around the Russian segment of the International Space Station.
Light yet powerful, the orbital arm has the ability to anchor itself to the Station and move back and forward by itself, hand-over-hand between fixed base-points. This space robot looks like a pair of compasses and has a length of over 11 m. When stretched, it could pass a football from a penalty spot to the goalkeeper.
The robot will serve as main manipulator on the Russian part of the Space Station. Its seven joints can handle multi-tonne payloads with a large range of motion for assembly tasks.