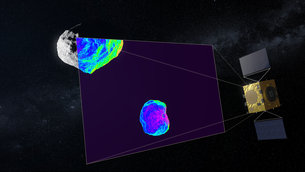 Planning for humankind's first mission to a binary asteroid system has entered its next engineering phase. ESA's proposed Hera mission would also be Europe's contribution to an ambitious planetary defence experiment.
Named for the Greek goddess of marriage, Hera would fly to the Didymos pair of Near-Earth asteroids: the 780 m-diameter mountain-sized main body is orbited by a 160 m moon, informally called 'Didymoon', about the same size as the Great Pyramid of Giza.
"Such a binary asteroid system is the perfect testbed for a planetary defence experiment but is also an entirely new environment for asteroid investigations. Although binaries make up 15% of all known asteroids, they have never been explored before, and we anticipate many surprises," explains Hera manager Ian Carnelli.
"The extremely low-gravity environment also presents new challenges to the guidance and navigation systems. Fortunately we can count on the unique experience of ESA's Rosetta operations team which is an incredible asset for the Hera mission."
The smaller Didymoon is Hera's main focus: the spacecraft would perform high-resolution visual, laser and radio science mapping of the moon, which will be the smallest asteroid visited so far, to build detailed maps of its surface and interior structure.
By the time Hera reaches Didymos, in 2026, Didymoon will have achieved historic significance: the first object in the Solar System to have its orbit shifted by human effort in a measurable way.
A NASA mission called the Double Asteroid Redirection Test, or DART, is due to collide with it in October 2022. The impact will lead to a change in the duration of Didymoon's orbit around the main body. Ground observatories all around the world will view the collision, but from a minimum distance of 11 million km away.
Related Posts