MADISON — For the first time since it was built in 1951, Babcock Hall Dairy Plant, known for its popular ice cream and award-winning cheeses, has undergone a major upgrade. The modernized plant, located within Babcock Hall, is also joined by a new, three-story addition for the Center for Dairy Research, a world-class resource for dairy processors and entrepreneurs.
The University of Wisconsin–Madison's College of Agricultural and Life Sciences is hosting a celebration and public open house to mark the completion of the project. From 2 to 4 p.m. on Friday, April 14 at Babcock Hall, located at 1605 Linden Drive, all are welcome to visit for an interactive self-guided tour highlighting the building's new state-of-the-art spaces and the work that takes place in the facilities – plus an array of delicious samples.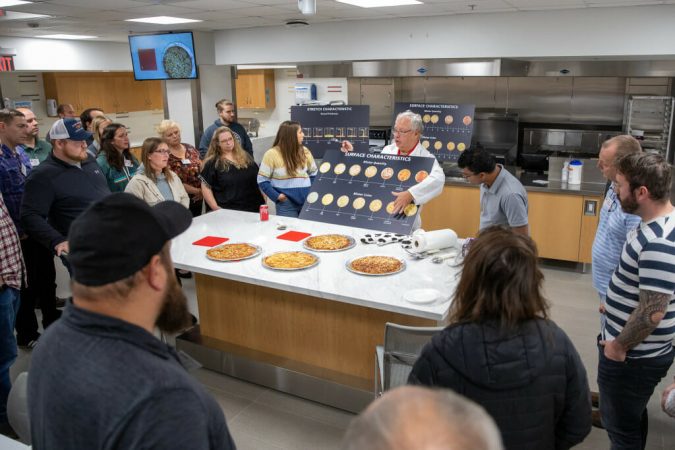 "We have a great space now to make the Babcock products that people have come to know and love," says Scott Rankin, chair and professor in the Department of Food Science. "Just as important, the new facilities represent a huge step forward in the plant's ability to serve as a laboratory and learning space for our students and university researchers, as well as industry personnel who come for professional training in the plant."
The plant renovation modernized the facility, adding the latest equipment for milk processing, ice cream churning, milk bottling and cheese making. The plant also has new freezer space that will allow staff to make larger batches of ice cream, freeing up time for employees to develop new products — including new ice cream flavors.
The Center for Dairy Research addition provided the center with the space and equipment it needs to provide – and expand – its research and outreach missions. The CDR, which has been housed in Babcock Hall since it was founded in 1986, works with more than 120 dairy companies and organizations each year to help them develop new products, troubleshoot production problems and train dairy professionals. CDR staff also work with graduate students on research projects designed to drive innovations in dairy products and processing.
The center now has its own food-grade, licensed pilot facility and a broader array of dairy food processing equipment. A new suite also offers 10 ripening rooms for specialty cheeses (commonly called "cheese caves"), each with its own set of environmental controls that create specific ripening conditions — such as temperature, humidity and air flow — for aging all kinds of cheeses. With new equipment, the center staff can work on specialty dairy products and further expand its research capabilities and possible industry partners.
"Having a world-class facility like this enables us to attract the best people in dairy research – including faculty, staff and students – to Wisconsin, where we are in an ideal location to serve the state's dairy processing industry," says John Lucey, CDR director and professor of food science.
Project funding came from private donors, the State of Wisconsin and UW–Madison. Nearly 200 donors—primarily from the state's cheese industry—fundraised more than $18M to support the project.
Say John Umhoefer, executive director of the Wisconsin Cheese Makers Association: "Other states have great dairy traditions, but I think everyone in the nation would agree: With this addition to Wisconsin's dairy capabilities and brain trust, America's Dairyland remains the center of gravity in the U.S. dairy industry."