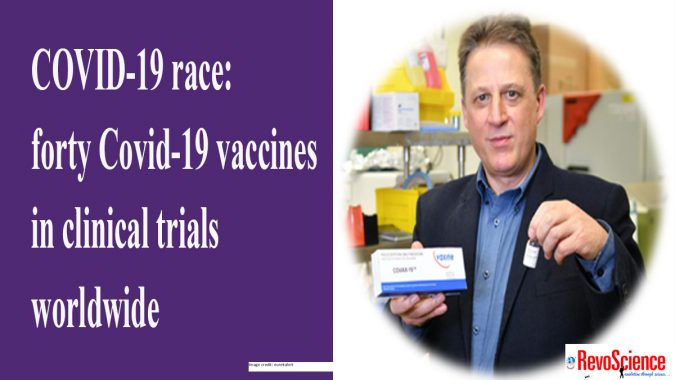 Prof. Nikolai Petrovsky, PhD
A Covid-19 pandemic is wreaking havoc throughout the world, and will likely continue to for months to come. It is a no-nonsense health risk, which is why countries around the world are racing to find vaccines and treatments.
Till now more than thirty million cases have been found and among them nearly one millions people already dead from nCoV infection around the world.
Clinical trial Vaccines:
Now there is race to produce vaccine against covid-19.
Still now One Hundred Thirty Nine COVID-19 vaccine candidates are undertaking preclinical evaluations.
A study to test a vaccine, a procedure, or another medical treatment is mainly done in animals.
The aim of a preclinical study is to collect data in support of the safety of the new treatment. Preclinical studies are required before clinical trials in humans can be started.
However forty COVID-19 vaccine candidates have entered clinical trials which spell trial in human being. Vaxine's Covax-19 includes among forty clinical trial candidates.
And number of vaccines entering in clinical trial phase is increasing day by day.
Phase III clinical trial vaccines:
Now there are still only six vaccines which have sign up phase III clinical trials. This, the last phase of clinical trial, is done in mass number volunteers.
This last trial requires of many number of health worker as well as. Almost more than 30K volunteer participants requires for this phase.
This third phase is just before the vaccine going in market. In this phase vague study, maximum observation is required.
Vaccine types:
Phase III vaccine includes from a United Kingdome, three from China, one from United States and one from other countries.
Non-replicating vaccines:
The Oxford University of United Kingdome is making vaccine for COVID-19. University uses alive but modified vaccines which is non-replicating virus.
These non-replicating viruses once get inserted inside human body they do not increases its number instead they trigger human immune cell to produce antibody which act against these viruses.
ChAdOx1-S is the name of COVID-19 vaccine. ChAdOx1-S vaccine already gets clinical trial approval and now in phase III trial positions.
Vaccines already have been past phase I and phase II trial. Now step into phase III clinical trial. The vaccines from this method have not been tested in Human being before.
DNA vaccines:
Deoxyribonucleic acid (DNA) vaccine, is already been manufacturing in United States.
The US is trying to make messenger ribonucleic acid (mRNA) COVID -19 vaccines. mRNA is hereditary traits of nCoV.
This mRNA once inside the human muscle cell, the immunoglobulin which acts against the foreign agent is produced by human immune cell.
Virus infects the human body. Recognized immune cell is active and start to produce immunoglobulin which protect body being more vulnerable.
They have now in phase III clinical trial step. DNA vaccine also has not been proven for mass human use.
Traditional vaccines:
China has developed more than one COVID-19 vaccines. They used traditional methods to prepare vaccines. China accustoms chemical inactivation method. Virus is cultured in different cell lines and isolated and then inactivated using chemicals. They also use recombinant methods of vaccine preparation. These methods already have been wont to make flue type vaccines. These methods have been quite successful.
Other Vaccines:
Other company correspondingly are on race to win competition of preparation of COVID-19 vaccine. Among them Australia base Vaxine Pty Ltd is one.
Vaxine private company is established in 2002 by Prof. Nikolai Petrovsky.
Vaxine have established with the object of overcoming human diseases with precision immunotherapy. Over last ten years Vaxine have issued Swine flu vaccine in 2009 pandemic.
Some Vaxine products are in clinical pipeline subsumes Hepatitis B, seasonal and pandemic Influenza, Cancer, Allergy and now recent Covid-19 vaccines.
Vaxine also produces more than twenty different types of vaccine's turbocharger, adjuvants; increases the immunogenicity of vaccine.
Vaxine Company uses recombinant viral spike proteins for vaccine preparation.
Virus cell are cultured in insect cell lines to make recombinant spike protein. This methods already been proven for many years.
Some vaccine have forwarded from this method like Hepatitis and Human Papilloma virus and given to billions of people till date.
So vaccine processed from this method is more safe approach comparing other unproven technique.
COVID-19 vaccine preparation is also carrying out with this method.
Vaxine Company has already made the vaccine named Covax-19TM from recombinant viral spike protein. The spike is the outer part of virus coat structure.
The isolated gene of spike is used to mass culture of spike protein of virus using Insect cell line. Protein is made called recombinant spike protein.
Vaxine attained spike protein is mixed with advax, company's best adjuvants product for increasing Covax-19TM effectiveness and lowering or no harmful effect of vaccine-enhanced diseases, vaccine side effect like lung disease (eosinophilic pneumonia)
The Covax-19TM, the ultimate product of Vaxine and has no safety or tolerability. In addition, manufacturing protocols can be transferred to any manufacturing facility in the world.
On Covax-19TM, addresses major pandemic needs like cross-protection, single-dose protection, broad antigen compatibility, and more exceptional tolerability and safety.
On this demand, Vaxine Pty Ltd has already issued permission to do combine phase II and phase III clinical from WHO.
Now company is looking for international multicentre for combined clinical trial to achieve target of 30K participants.
Nepal also has major interest in third trial participant including countries like, Indonesia, Panama, Pakistan, India, Poland, Kuwait, and North Africa.
(Prof. Nikolai Petrovsky, Director of Vaxine Pty Ltd, was spoken during webinar "VACCINE AND IMMUNIZATION: COVID-19" on 13th September, 2020, organized by Biotechnology Society of Nepal (BSN). It is transcribed by Puskar Thapa.)