BY Kiran Adhikari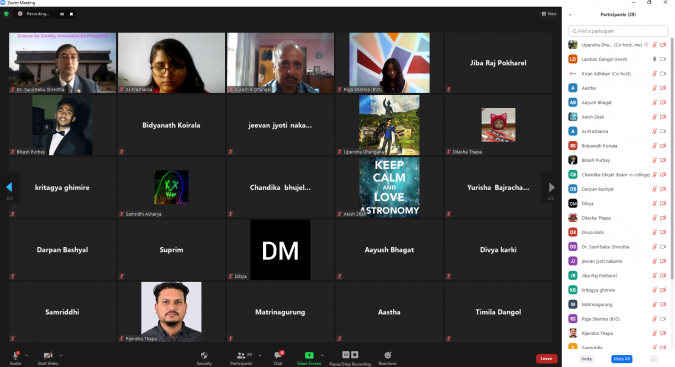 Kathmandu- Design Kathmandu Contest organized by Revoscience Media in collaboration with the Nepal Academy of Science and Technology (NAST) has been successfully completed with a total of 57 groups from across the country.
A total of 116 students from Grade 10, 11, and 12 participated in the event where they had to submit a written report designing the future of Kathmandu.
In the Grade 10 category, Yurisa Varjacharya, Suvika Hamal's team, and Riga Sharma's team have secured first, second and third place respectively. While in the grade 11 category, Kritagya Ghimire's group, Dilisha Thapa's group, and Ishita Dahal's group have secured first, second and third place respectively.
Similarly, Timila Dangol's group, Vicky Kumar Jha's group, and Raunkaranjan Mishra's group have secured first, second and third place respectively from class 12. The first, second, and third place winners from each class group of the intellectual competition will be awarded 10,000, 5,000, and 2,000 cash prizes and certificates respectively.
The chief guest of the program was the Vice-Chancellor of Nast, Dr. Sunil Babu Shrestha who said that the design and planning made by the students should be sent to various responsible agencies. "NAST has started work in the coming days not only in such new areas but also in other areas of agricultural productivity," said Shrestha.
Former Science and Technology Minister Ganesh Shah suggested that NAST should take such programs to every local level in the coming days. "Even if it is not possible to take it to the local level, a contest should be organized at least on how to develop the state capital," he said.
Former secretary Kishor Thapa said that the students' imagination and writing skills were excellent. 'The Kathmandu Valley was built according to the plans of the Tantrics in ancient times. The kings used to follow the Tantrics, said former secretary Thapa, "Design Kathmandu Contest will contribute a lot to the student's intellectual development."
Educationist Prof. Dr. Vidhyanath Koirala said that there is a lack of a basic thinking curriculum in our school education. "Today's student's imaginations are focused on the Western-style, so the future Design of Kathmandu should focus on Nepal's original identity," he said.
Former Vice-Chancellor of Nast, Prof. Dr. JivRaj Pokharel, said that the plan to keep the students' environment clean and to include old items in the new house was excellent.
Design Kathmandu Contest was a free intellectual competition from all over Nepal conducted via an online platform. The contestants had participated in the contest individually or in groups. Students had to imagine a futuristic city and prepare a report of around twenty pages.
Asia Times writer Bhim Bhurtel said that students should be taught the art of research writing. Author Bhurtel discussed the evaluation method of the contest, saying that children should not be underestimated giving the example that fighter planes were designed based on the imagination of children.
NAST's secretary Dr. Mahesh Kumar Adhikari said that foreigners consider Kathmandu as a 'Land of Gods' and there should be a plan on how to manage it. Secretary Adhikari mentioned that it would be important for the youth to be involved in the protection of flora and fauna and resources. Dr. Suresh Dhungel, a scientist from Nast, while evaluating the writing and imagination of the students participating in the contest, said that their thinking would be a cornerstone for the development of Kathmandu.
Among the winners, Kritagya Ghimire, who is studying in class 11 at South Weston College, said that he has made a ten-year action plan according to futuristic technology. Timila Dangol, a 12th grader at St. Xavier's College in Kathmandu, saw the state failing to protect our heritage and she addressed that in her report.
Editor of the RevoScience media, who is also the organizer of the Design Kathmandu Contest, said that student prepared the report researching Design, Geography, Architecture, Society and Civilization, Science and Technology and Culture, Environment and Wildlife, Policy and Planning, Heritage and Conservation Measures, Research and Development and Innovation, Religion and Education System, Road Network and Smart Technology, Science Park and Kabadhal, Business Centers and Arts and Entertainment and Financial Management of Kathmandu and surrounding cities. He also mentioned that there will a second Design Kathmandu Contest in the coming year.
Kiran Adhikari, who is pursuing a Master's degree in physics in Germany, gave a presentation about the original idea of the Design Kathmandu contest, format and judging system, and other such programs that would help in the intellectual development of students.
Nepal Forum of Science Journalists(NFSJ), Ejalo Academy, and Biotechnology Society of Nepal (BSN) played the role in the promotion of the event.
Chairman of Revoscience Media, Prof. Dr. Jeevan Jyoti Nakarmi, concluded the program by justifying the organization of the Design Kathmandu Contest.